I'm giving up Twitter for Lent. You'll still see automated notices every time I post something at Duresport (on @duresport feed) or here (on @duretalk — and anything I post here will be about music or how The Blacklist fell off a cliff), but that's it. Please don't think I'm ignoring people … though, technically, I suppose I am. I'm also not going to talk about anything "political" on Facebook or elsewhere, and I'm going to use an expansive definition of "political" rather than my usual cop-out "Oh, it's not political, it's about journalism or philosophy or science or what not."
It's not just that Lent is supposed to be about self-denial. It's also about reflection. And I do plan to spend some time contemplating how we represent ourselves in our words.
So before I go, here's a bit of me indulging in a Mardi Gras of the mind and dumping everything off my chest. No … wait … I mean … here's how I got to this point and what I'll be contemplating.
And you'll see that I really am contemplating. I haven't made up my mind on things in advance of spending 40 days in contemplation of just how brilliantly correct I am.
A few weeks ago, I saw a rare Kate McKinnon sketch I did not like. My overriding opinion of SNL these days is that it's terrific, and I think McKinnon is making a strong case to be considered one of the best cast members of all time.
This one, I found annoying:
I didn't like it because I thought it plays to a stereotype of East Coast elitism. SNL's best humor translates broadly. Wayne's World could be anywhere. We all know a Church Lady. We've all had a Lazy Sunday, even if we prefer Twizzlers and Dr. Pepper to Red Vines and Mr. Pibb. This struck me as something for Broadway geeks only.
Then I second-guessed myself.
Why should SNL not do a Broadway sendup from time to time? Just because we all need to cater to the alleged whims of Middle America? Isn't that just another twist on political correctness?
I thought of that again today when I read the story on Trump ordering an expensive steak — well-done, with ketchup. The Washington Post's snooty food critic had a bit of fun with it, and someone at Eater went into full-bore psychoanalysis:
A person who won't eat his steak any doneness but well is a person who won't entertain the notion that there could be a better way; a person who blankets the whole thing in ketchup (a condiment that adds back much of the moisture, sweetness, and flavor that the overcooking removed in the first place) is always going to fix his problems by making them worse. A person who refuses to try something better is a person who will never make things good.
As with the Conway sketch on SNL, I'm of two minds on this. As a picky eater myself (I'm not a fan of raw or stewed tomatoes, I'm generally averse to mushrooms, and I find raw sushi and all types of shellfish to be the rough equivalent to eating a softened hockey puck — and, ironically, I don't like ketchup), I think these folks should lay off a bit.
That said … if you saw some dude on TV touting the superiority of his steaks, and then you saw him prepare and eat them like they're McDonald's hamburgers, you'd be inclined to laugh a bit, wouldn't you?
Well …
So do we give him a free pass just because he managed to win an election?
From an ethical point of view, I don't think so. But politically? How politically correct do we have to be about this guy and his followers? Do we need to tone down our sense of humor just to avoid triggering a backlash against Trumpist snowflakes? (Yes, I chose "trigger" and "snowflake" quite deliberately because those accusations reek of hypocrisy.)
I've obviously been thinking about this sort of thing a lot. Actually, I've spent several years wrestling with the idea of how much I should engage people. In some cases, I mean those people I respect and with whom I simply disagree. In other cases, I mean those who think global warming is a conspiracy of Chinese communists and Northeast academics. Or those who gripe about government spending when their states and their outdated economic engines are the primary beneficiaries. Or those who shut down a conversation by accusing others of "white privilege."
Because I've spent too much time over the years dealing with this sort of crap …
https://twitter.com/howsyatouch/status/832999490118361091
(Yes, that's the guy who regularly accuses me of being paid by MLS to argue against promotion and relegation. Which, among other problems with his argument, I do the opposite of.)
https://twitter.com/SerendipityMG/status/829492506811326464
https://twitter.com/davidsirota/status/829486738162712576
(Apologies if you're a fan of David Sirota's journalism. A lot of it looks pretty good. But he clearly has a blind spot when it comes to pot. Which is funny, because I've heard people touting pot as a cure-all for glaucoma.)
In fairness, I've also had a lot of positive interaction on Twitter. Probably a 5-1 or even 10-1 ratio in my favor, if you don't include the Alex Morgan incident …
Yes, 972 "likes." And 344 retweets. Read more about how that went — the occasional death threat, but also a lot of words of support — in this search if you're so inclined.
And no, it's not just Twitter. Way back before Twitter, a soccer fan had a web feature called "Turd of the Week," which I won at least once, along with the insinuation that I was doing sexual favors for whoever I failed to sufficiently criticize.
And none of this even remotely compares to what female journalists, especially in sports, have to deal with on a daily basis.
Clearly, there are some dark alleys that simply aren't worth exploring.
But we can't afford to disengage entirely. We have to find the people who offer constructive feedback and interesting ideas, as difficult as it may be at times.
And we — as journalists and as citizens — have a responsibility to call out bullshit. We can't just leave it to John Oliver, even if he does it remarkably well:
With that in mind, I'd invite people from all political walks of life to ask themselves this:
How much of the world's bullshit is my responsibility?
If you watched nothing else in this post, please watch this (and pardon the vulgarity). It sums up how I feel not specifically about guns but about a lot of political discourse today:
By avoiding Twitter and political discussions for the next 40 days, I hope to cut down the amount of bullshit I encounter. I also hope to reduce my contributions — my "bullshit footprint," if you will. Or my "anger footprint," or my "'I'm just trying to find the right words to make you come to terms with how wrong you are' footprint."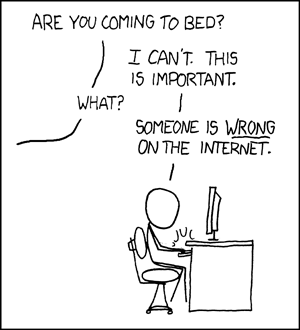 The conversations are important. Well, some of them. I don't need to hear from Alex Morgan fangirls and fanboys ever again. There are other conversations we need to have. We need to elevate facts and the search for truth, and that takes patience.
But we should spend more time thinking before we speak. I'm going to take it to an extreme.
Forty days.
You'll still see me on Facebook and in The Guardian and in Bloody Elbow and maybe Mostly Modern Media. But I'll be sticking to sports, music, parenting humor and griping about yard work.
Then on Easter, all hell might break loose. But I pray it'll have some thought behind it.